WHAT IS PROSHARE?
Proshare is a signature annual initiative sponsored by the Administrative Management Group (AMG). Available to all UCLA staff, ProShare is a 6-month networking and support program that brings interested staff together in small groups to share successful workplace practices and resources within a confidential and supportive setting. Participants will experience professional growth, build stronger networks across the university, and learn more about different UCLA departments, divisions, and offices.
WHAT WILL I GAIN FROM BEING PART OF THIS PROGRAM?
In addition to meeting new colleagues from across UCLA and bringing your specific issues to your group's meetings, you will build relationships with a brain trust you can call upon in the future. By attending meetings hosted at different UCLA offices, you will gain knowledge about the breadth and depth of university operations.
WHAT DO THESE GROUPS DO?
Following a program launch meeting in January, groups of 4-6 members will meet once per month for 90-120 minutes through June. Each month, the meeting will be hosted by a different group member who will determine the agenda and issues to be discussed. Typical meetings will include:
A tour of the host's facility or office (if appropriate)
A short presentation by the host about his/her division/department/office and his/her role
Confidential discussion focusing on issues the host is currently managing, with input from other group members as to possible solutions and resources
Confidential discussion during which other group members may bring their own issues to the table for feedback and advice
WHEN ARE THE MEETINGS?
Members will collaboratively determine the best meeting times for their group. Because of the nature of the program, every effort must be made by each member to be present at all meetings. If your schedule is regularly impacted by unpredictable changes, this may not be the program for you.
In addition to the January-June meetings, there will be an important launch meeting at the beginning of the program where you will be introduced to your group and determine meeting times. There will also be two mid-program networking events and a celebratory wrap-up meeting. Please sign up for the AMG listserv to be notified of the announcements.
TESTIMONIALS AND SUCCESS STORIES
Calvin Wong, Hazardous Materials Specialist, Office of Environmental Health & Safety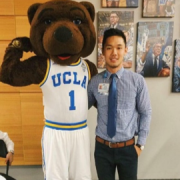 "UCLA AMG has given me the skills to network with people from other departments and connect with them on a singular motive to advance our careers. Thanks to AMG, I met mentors who were like-minded and gave me a much deeper insight to my career aspirations and confidence in the career moves that I made. ProShare is a program unlike anything else on campus and provides a platform for people to gather and discuss how they can enhance their careers."
Carlos Samplina, Financial Counselor, Physicians' Billing Office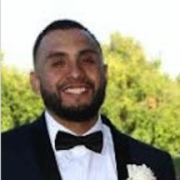 "AMG ProShare served as a positive learning experience. ProShare has definitely given me a better understanding of my skillset and opened my eyes to all the opportunities and programs UCLA provides to their employees to help us grow."
Mike McCormack (He, Him, His), Leadership Development Coordinator, Residential Life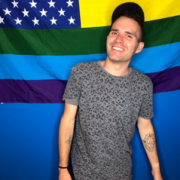 "I loved being involved with AMG ProShare because it offered me the chance to network outside of my department, division, and comfort zone. Getting to work with the amazing people in my group showed me how expansive UCLA is, what incredible work is happening across the university, and gave me opportunities for collaboration for the betterment of the students I serve and UCLA as a whole."
Maria DiTullio, Associate Director, Anderson Executive Education Program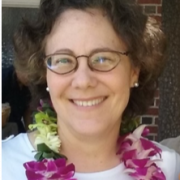 "ProShare was a gift – a chance to connect with staff who want to talk about their work, the projects, and contributions to UCLA. We are all busy and yet carved out the time to meet."
Susan Ito, Contract and Grant Office, UCLA Stein Eye Institute
"If you are looking for an organization that will allow you to get out of your comfort zone and widen your professional horizons, I highly recommend AMG. Through AMG's ProShare program, I was able to meet colleagues from other areas of campus such as Residential Life, Asian American Studies, and Anderson School of Management. Although our specialty areas were different, there was a common ground of issues that we shared. Our discussions brought a fresh outlook on issues and helped me grow as a problem-solver. I strongly endorse AMG if you are looking for professional growth and camaraderie."
Jenny Yi, Department of Neurobiology
"I joined AMG ProShare in hopes of meeting new colleagues and building intra-campus connections. This affiliation provided the means, and then some. I was blessed with the opportunity to meet wonderful individuals – those whom which I hope to carry a lasting relationship. Engaging and interacting with those I normally did not allowed me to broaden my perspective of our institution. As much as I have gained through this program, I am planning on joining again in prospect of newfound relations and knowledge."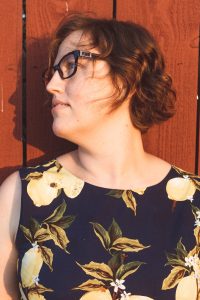 Amber Marti, UCLA Residential Life
"I joined AMG Proshare because it was recommended by a colleague. I wasn't sure what to expect, but what it delivered was a phenomenal opportunity to connect with colleagues from different backgrounds and disciplines. My group of five colleagues met regularly and I was able to explore different parts of campus, some of which I had no idea existed! In our sessions, we were able to brainstorm solutions for challenges each of us faced at different points throughout the year. I would recommend AMG Proshare to anyone early in their career, those looking to get to know the UCLA campus, and those who have been at UCLA for many years and are able to share their wisdom with others."
HOW DO I SIGN UP FOR PROSHARE?
Call for applications will be announced once per year — usually in late fall — via the AMG listserv. This message will provide instructions on how to apply for the program. To be notified of future ProShare announcements, please sign up for our listserv.