Are you your best self?
"To reshape the future we need first to better understand and reshape ourselves"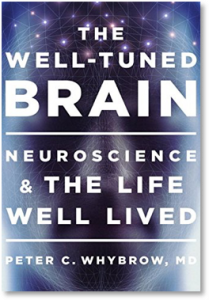 In this optimistic and inspiring book, Peter Whybrow, offers a prescription for genuine human progress.  "The genetic prescription we each carry, does not alone determine our destiny: but the interaction of that prescription with family, culture, and experience certainly does."
The Well-Tuned Brain is a call to action.  Whybrow addresses significant issues related to the navigation toward a more meaningful life.
Swept along by the cascading advances of today's technology, most of us take for granted that progress brings improvement in the workplace and in our personal lives; however, the evidence grows that we are failing to create a sustainable future for humanity. Technology itself is not the problem but rather our behavior.
 Learn how to achieve success by developing the strength and wisdom of our better nature as humane social beings to help us cope with a more automated future.