Welcome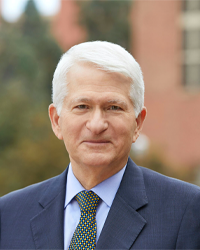 Chancellor Gene Block
As UCLA chancellor since 2007, Gene Block oversees the university's three-part mission of education, research and service. He has defined academic excellence, civic engagement, diversity and financial security as top priorities for his administration.
Chancellor Block also holds faculty appointments in the UCLA David Geffen School of Medicine at UCLA and the UCLA College. An expert in neuroscience, his research has focused on the neurobiology of circadian rhythms.
Before becoming chancellor of UCLA, Block spent 29 years at the University of Virginia, where he was most recently vice president and provost. He has served on the executive boards of several leading organizations, including the Association of American Universities, Association of Public and Land-grant Universities and Association of Pacific Rim Universities.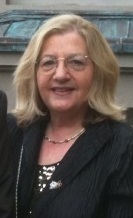 Lubbe Levin
Lubbe Levin first joined UCLA in 2002 as Assistant Vice Chancellor, Campus Human Resources and was promoted in 2007 to her current role as Associate Vice Chancellor. She is responsible for providing strategic and policy leadership for the full range of human resource programs and policies at the campus.
During 2014 and 2015, in addition to her campus responsibilities, she also served as Interim Chief Human Resources Officer for the UCLA Health Sciences.
Prior to coming to UCLA, she held key positions at the UC Office of the President including service as Assistant Vice President—Human Resources, with system-wide responsibility for compensation programs, staff affirmative action/EEO, employee & labor relations, personnel policy, and training and development. She did groundbreaking work in such areas as labor relations policy, incentive and recognition plans, diversity initiatives, and led efforts to restructure the human resource policy system. Between 1991 and 2001, she also served as program director for the University of California Management Institute.
Dr. Levin received her Ph.D. and M.A. degrees from UC Berkeley and completed her undergraduate degree with Great Distinction at Stanford University, spending her senior year at the Université de Nantes in France. Her academic background includes serving on the faculty at Washington University in St. Louis.
DAY 1 OPENING KEYNOTE/COACHING SESSION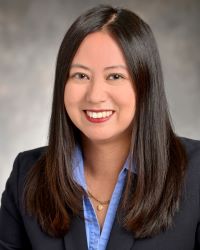 Dr. Anne Dela Cruz
Director, UCLA CHR & Payroll Operations Center
Dr. Anne Dela Cruz serves as the Director of Human Resources & Payroll Center South where she works in concert with the campus HR leadership team and client departments to identify and implement effective business processes and best practices for recruiting, developing, and retaining a diverse workforce.
Anne coordinates strategic planning and implementation of process improvement initiatives for UCLA Campus Human Resources, with emphasis on building a joint team of approximately 30 full time staff across our campus service center locations, and in collaboration with CHR unit directors as well as stakeholders across our 24 client departments. She also serves as the UCLA Administration Equity Council Chair for 2021-2022.
COMMUNICATIONS PANEL DISCUSSION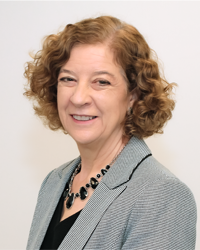 Allison Baird-James
Associate Vice Chancellor, UCLA Business & Finance Solutions
Allison Baird-James serves as the Associate Vice Chancellor, Business & Finance Solutions at UCLA, a position which she has held since 2010. In that capacity, she is responsible for the following operating units:  Student Finance Solutions (Cashiering, Student Accounting, and Campus ID Card), Business Operations & Infrastructure, Financial Management & Reporting, Central Resource Unit (formerly Payroll Services), Procurement to Payables, Tax Services, Travel Accounting and UC Travel, Records Management & Information Practices, Treasury Services, and most recently, Insurance & Risk Management and Mail, Document & Distribution Services.  She contributes with Senior Leaders on strategic financial decisions for UCLA and the UC System as a whole. She is also an active sponsor for the UCLA Ascend initiative which will replace the 35+ year-old legacy financial systems with Oracle Cloud.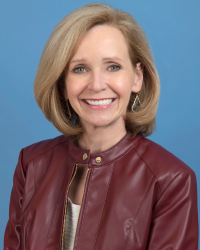 Judy Fortin
Executive Director of Communications, UCLA Health & David Geffen School of Medicine
A veteran former broadcast journalist, Judy Fortin is Executive Director of Communications for UCLA Health and the David Geffen School of Medicine in Los Angeles, California. She leads a team that is responsible for all media relations and reputation management at one of the top health systems in the United States.
Prior to joining UCLA in 2019, Judy served as Senior Director of Communications at Winship Cancer Institute of Emory University. Previously, she was National Director of Media Relations for the American Cancer Society. She spent 19 years as an anchor and correspondent at CNN and CNN Headline News in Atlanta. She won multiple national awards for her work as a CNN Medical Correspondent. Previously, she was a reporter for WCVB-TV in Boston and WMUR-TV in Manchester, New Hampshire.

Mits Yamahata
IT Director at the UCLA Luskin School of Public Affairs
Mits Yamahata, MBA, is the IT Director at the UCLA Luskin School of Public Affairs, managing the IT organization that provides the dedicated daily technical and computing services and more to all staff, faculty and students within the Luskin SPA organization. Mits has been with UCLA for close to 20 years bringing his technological experience to departments such as the School of Public Policy and Social Research (SPPSR), UCLA Business and Administration Services (B&AS), CTS, UCLA IT Services and Bruin OnLine (BOL). Mits has participated in the UCLA Professional Development Program and is also a current active member of the Campus Systems Group (CSG) as well as a board member for the UCLA Asian Pacific Islander Faculty & Staff Association (APIFSA). After work, Mits is a proud father of two daughters and enjoys many different active hobbies and nature walks with his family.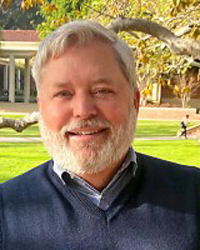 Scott Carter
Deputy Director, UCLA Enrollment Management
Scott Carter has been with UCLA for over 30 years. In his current role with UCLA Enrollment Management, he provides leadership, visioning, comprehensive planning, and direct support to the Vice Provost. He is responsible for comprehensive planning and strategic initiatives, including project management, steering customer service efforts, collaborating with academic stakeholders, and supporting students and families. He is a member of the College Board.
A recognized leader in UCLA Student Affairs, Scott assumed his current position in 2013 after serving in various campus roles. Areas of campus he has impacted are Residential Life, the Dean of Students, Student Activities, and Fraternity & Sorority Life. Scott is a strong advocate for student development and led leadership initiatives and organizational development efforts for UCLA's vibrant and active student body.
CAREER NAVIGATION SESSION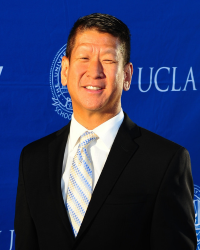 Steve Yu
Chief Financial Officer and Assistant Dean, UCLA School of Law
Steve is the Chief Financial Officer and Assistant Dean at the UCLA School of Law overseeing a $100 million budget and 200+ staff. He received both his bachelors and MBA from UCLA. He is the current president of the of the UCLA Anderson School of Management Alumni LA Chapter and is on the Board of Directors for ASUCLA.
Steve is a professional public speaker, and has presented to Navy Seals, doctors, business leaders and students at UCLA, USC, Cal State universities, Skechers and multiple non-profits. He MC'd a TEDxUCLA event and was featured in the Toastmasters Magazine.
Steve is an investor in three Bruin-owned ventures including the Peace & Plenty Resort in the Bahamas, a family-owned cherry farm in Central California, and in a tech startup BUENA LIFE.
Steve likes to stay physically active. He was an instructor level Muay Thai kickboxer, ran three L.A. Marathons, and is certified to teach hot yoga.
Steve believes in three core principles of (1) always having a student mentality, (2) continual progress, and (3) paying it forward.
RESOURCES FOR PROFESSIONAL DEVELOPMENT

Alberto Alquicira
Technology Director, UCLA Architecture and Urban Design
Alberto has been the Architecture and Urban Design IT Director for the past four years. He's a Bruin Alumni and has gained institutional IT knowledge through various roles over the past 15 years at UCLA. Alberto held the President position for the Helpdesk Consortium in which he aided in the rebranding transition to the current Bruintech group. He's maintained campus involvement through many years of Staff Assembly Board positions including Historian, VP of Development, and VP of Communication and has developed his leadership and network through campus programs such as PDP (Professional Development Program).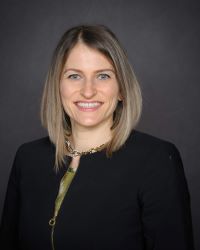 Katrin Kaehler
Director of Human Resources, UCLA Extension
Katrin is the Director of Human Resources. In her capacity, she oversees all aspects of the employee lifecycle for about 300 staff members and 2,500 instructors. A native of Germany, she brings a wealth of international experience to UCLA, having served in international HR leadership roles in Europe and the US for over 15 years. In her capacity as a President and board member of the Association for Talent Development, Katrin successfully guided the Los Angeles chapter through a turnaround. Katrin holds an MSC in Organizational Psychology from Marburg University, is a Senior Certified Professional (SHRM-SCP) through the Society for Human Resources Management and a graduate of UCLA Extension's General Business Certificate.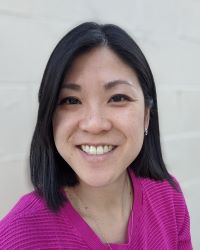 Caroline Kong
Instructional Designer and Technologist at the Center for the Advancement of Teaching
Caroline Kong is the Instructional Designer and Technologist at the Center for the Advancement of Teaching. She works collaborative with faculty and TAs to assist them with course design, to identify the best uses for technology in instruction, and to provide support in implementing education technology in class. With more instructors wanting to incorporate technology in their teaching, Caroline finds the challenge exciting and is constantly on the hunt for inspiration among her colleagues, higher ed blogs and chat rooms.
As a member of CCLE Home, Caroline assists campus with all things related to CCLE (such as the LMS, Zoom, Respondus, Kaltura, etc.).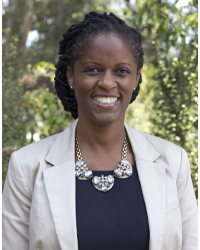 Rejeana Mathis
Lead Manager of Learning and Organizational Development in UCLA Campus Human Resources Training & Development
Rejeana Mathis, MBA, is Lead Manager of Learning and Organizational Development in UCLA Campus Human Resources Training & Development. In this role, she is responsible for leading the training function as well as designing and facilitating leadership and management development, team interventions, and process improvement efforts. Rejeana joined UCLA in 2007 to establish the Management Development Certificate Program. Prior to coming to UCLA, she was Director of Workforce Development at Los Angeles Times, Manager of Leadership Development at Tribune Company, and Employee Relations Manager at Chicago Tribune Company. Rejeana is a past President and past Secretary of UCLA Staff Assembly.  She is also a recipient of the Council of University of California Staff Assemblies (CUCSA) Outstanding Staff Award.
DAY 2 OPENING KEYNOTE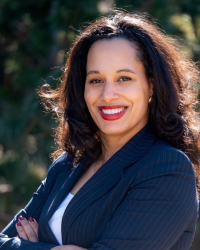 Vice Chancellor Anna Spain Bradley
UCLA Equity, Diversity and Inclusion
Anna Spain Bradley is UCLA's Vice Chancellor for Equity, Diversity and Inclusion and a Professor of Law at the UCLA School of Law. As UCLA's chief diversity officer, she leads and advances campus strategies for enhancing equity, diversity and inclusion and oversees the university's mechanisms for upholding civil rights protections.An expert in international law and human rights, Vice Chancellor Spain Bradley is the author of Human Choice in International Law (Cambridge University Press, 2021) and Global Racism (Oxford University Press, forthcoming) in addition to numerous scholarly publications. Her current research concerns global mechanisms to combat racism and promote human rights. She serves as a legal expert to the United Nations on these matters.
Prior to joining UCLA, Vice Chancellor Spain Bradley served as Assistant Vice Provost for Faculty Development and Diversity (2017-2020) and a Professor of Law at the University of Colorado. She previously practiced international law as an Attorney-Adviser at the U.S. Department of State Office of the Legal Adviser where she received two Meritorious Honor Awards for her work representing the U.S. before the Iran-U.S. Claims Tribunal in The Hague and as a delegate to the United Nations Compensation Commission in Geneva. In 2021, she was elected as a Vice President of the American Society of International Law, having previously served on the Executive Council. She is a member of the Council on Foreign Relations, a member of the Academic Council of the Institute for Transnational Arbitration, and a founding member of Mediators Beyond Borders International. In 2018, she was one of four educators in the nation to receive the OZY Educator Award. She earned her J.D. from Harvard Law School and her B.A. from Denison University.
DIVERSITY PANEL DISCUSSION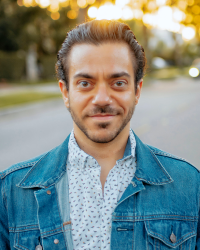 Andy Cofino
Director, UCLA LGBTQ Resource Center
Andy Cofino (he/him) is the Director for the UCLA LGBTQ Campus Resource Center. He has previously supported LGBTQ+ communities at Princeton University, New York University, and on the Executive Board of the National Consortium of Higher Education LGBT Resource Professionals.
Andy believes in an intersectional, social justice approach to his work, recognizing that sexual and romantic orientation and gender identity are inextricably tied to all social identities and the systems of power, privilege and oppression that underpin them.
As such, Andy believes the work of supporting LGBTQIA+ students must also reflect a commitment to interrupting anti-Blackness, racism, white supremacy, colonialism, xenophobia, sexism, and ableism. Andy holds a Bachelor of Arts in English and Women's and Gender Studies with a minor in Italian from Pace University and a Master of Arts in LGBTQ Studies, Social Justice, and Creative Writing from New York University.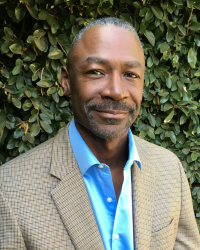 Russell Davis
SPHR and SHRM SCP, Chief of Human Resources, Equity & Engagement (CHREE), UCLA Hammer Museum
Russell Davis has been a Human Resources executive since 2002, with experience in for-profit and non-profit industries in California, New York, Canada, and remote teams worldwide. He has been a consultant focused on communication effectiveness and racial dialogue since 1992, when he Co-founded The Dialogue Consultants (TDC) after the civil unrest in Los Angeles.  TDC was dedicated to helping individuals understand themselves, learn to understand others, and foster engagement and healing through facilitated dialogues on racism, oppression, privilege, and identity development.  He is the author of The Leadership Papers: Tools for Effective Leadership, and the upcoming book, A Fire in My Bones: The New Leadership Guide.  Russell is an advocate for organizational and individual accountability, and believes that effective leadership is a key factor in meeting organizational and individual goals.  He is excited to continue promoting the values of dignity, respect, speaking truth to power, and coalition building in his role as the Chief of Human Resources, Equity & Engagement (CHREE) for the Hammer Museum.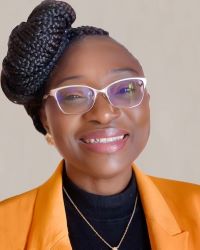 Dr. Francesca Fajinmi
Senior Director, UCLA Business Finance & Solutions
Francesca Fajinmi has over 30 years of corporate experience in major organizations such as Nestlé, 20th Century Fox, and CB Richard Ellis. She was the Head of Finance for the Siemens entity in Los Angeles, a global conglomerate with presence in 166 countries and headquartered in Germany. Currently, she partners with multinational corporations in both strategic and tactical imperatives. One of her current portfolios of client is UCLA, where she leads the Central Resource Unit. She has a Doctorate in Business Administration with a focus on International Business; her master's degree was in the same field of Business, with a bachelor's in accountancy.

Dr. Elizabeth "Liz" Yzquierdo, Ed.D
Associate Dean for Student Affairs at the UCLA Fielding School of Public Health and Adjunct Assistant Professor, Community Health Sciences Department
Elizabeth Yzquierdo MPH, Ed.D is Associate Dean for Student Affairs at the UCLA Fielding School of Public Health and adjunct Assistant Professor in the department of Community Health Sciences. She currently oversees the student affairs office, which includes academic, admissions, and financial services for over 650 graduate students annually across five departments. With over 25 years of experience in student affairs, she has worked with undergraduate, graduate and professional students in public, private and professional schools.  She is currently Co-Chair of the FSPH EDI Committee. She has directed programs and served on various local and national advisory committees with the goal of diversifying higher education and health professional schools. She earned her doctorate degree in Educational Leadership (Ed.D) from the UCLA School of Education and Information Studies; MPH in Community Health from California State University Northridge; and BA in Sociology from the University of California, Santa Barbara.
SUCCESSION PLANNING/TALENT MANAGEMENT SESSION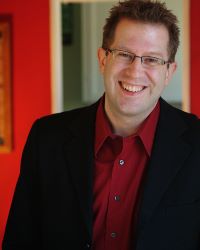 David Fuller
Training Consultant, UCLA Campus Human Resources, Training & Development
David has spent more than two decades as a learning & development professional focusing on leadership development, software training, and leveraging dynamic new-employee orientations to engage and retain staff.  He has worked across industries including entertainment, finance, health care, and social services.  Prior to joining UCLA, he held training leadership positions for organizations such as GMAC Home Services, Bluebeam Software, and Volunteers of America Los Angeles.  He has a master's degree in Humanities from California State University, Dominguez Hills and a bachelor's degree in Mass Communications from Central Washington University.
NETWORKING SESSION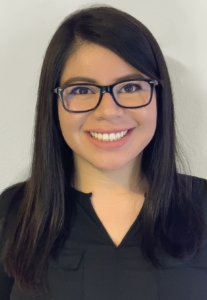 Ashley Pech
Accountant, UCLA Research Administration, Extramural Fund Management
Ashley is currently an Accountant in the Extramural Fund Management department, in which she is responsible for the financial stewardship of sponsored research funds. Having graduated from UCLA in 2016, she is happy to still be part of the campus network as a staff member. Go Bruins! As the AMG Events Coordinator, Ashley is excited to work on different initiatives and events to foster professional development for all UCLA employees. She enjoys spending time with her family, playing video games with her son, and eating delicious food.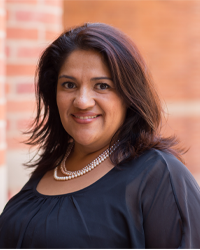 Patty Johnson
Senior Manager of Academic Services & Operations, UCLA Anderson School of Management
Patty serves as the Sr. Manager of Academic Services & Operations for the Full Time MBA Program at the UCLA Anderson School of Management. Patty has worked at Anderson for over 20 years in various capacities. In her current role, Patty works primarily with faculty and administration on academic planning and scheduling. Patty is a first-gen college student, she graduated from UCLA in 1999 with a degree in Psychology and a specialization in Business Administration. She is a graduate of the Riordan Scholars Program ('02) and holds a Master's degree in Public Administration from CSUN ('18). Patty is passionate about personal and professional growth and when she is not spending time with her husband and three young children, she is reading or taking online classes to learn new skills. She is excited to help bring her knowledge and ideas for programming to AMG and build upon the current offerings.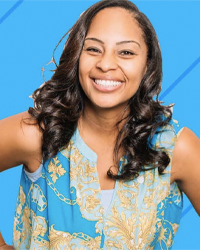 Britanny Lewis-Porchia
Co Chair
Britanny Lewis-Porchia began her service to UCLA in 2007 and is currently the Assistant Director for UCLA's Early Academic Outreach Program. She is regarded as a key contributor in the field having served for more than 20 years. Britanny has a great passion for her work in the community changing the lives of many by providing access to academic/financial aid advising, mentoring, campus tours and more to first generation, under-represented prospective students. Britanny is a forward thinker who values team building, motivating others, increasing diversity and inclusion, cultivating professional development opportunities, and finding ways to work smarter rather than harder. In addition to her academic hat, Britanny is a wife, to her adoring husband of 20 years, and a mother to 4 beautiful children Alexa, Madison, KJ III and Abigail Sky. Britanny's favorite hobbies include going to church, baking (Brit's Cookies, pies, and more), spending time with loved ones, listening to music and Pre-COVID Activities: watching movies (collecting movie tickets), going to plays, traveling (collecting postcards and keychains), and dining out (a dessert foodie).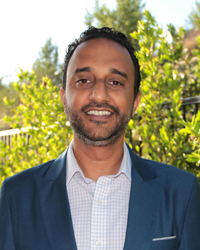 Sim Grewall
Co Chair
Sim has been with UCLA for 13 years and currently serves as the Communications Lead for UCLA Business & Finance Solutions. For the past ten years, Sim has been immersed in many areas: corporate communications, e-learning, web/graphic design, media development, branding, event planning, speech writing, and team-building, which has been crucial while working remotely. When he's not silently correcting your grammar, he spends his time playing the drums, taking photos, and uploading videos of his kids' misbehavior. AMG's Special Projects Coordinator role is ideal for Sim to channel his creative talents toward professional development at UCLA.