Are you a manager or aspiring to be a manager here at UCLA?  If so, then we need your help at AMG.
If you have some time to help AMG on its mission to assist with the professional growth and development of current and aspiring managers on campus while improving access to and communication with senior leadership on campus, we could use your assistance.
Getting involved in AMG committees will provide you with the opportunity to utilize or develop skills in areas outside of your current position, to network with people from other departments, and in some roles to interact with Senior Leadership here at UCLA.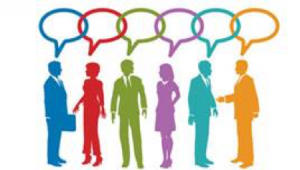 The AMG Committee list includes: Marketing and Brand Awareness, AMG Authors Series, Excellence Awards, Strategic Communications and Events and Website.
Take a look belowto read more about all of our committees and their structure. Then email us at amgbruin@g.ucla.eduand list the committee or committees that interest you.  Please include your name, department, title and email address.  The subject should be the title(s) of the committees you are interested in.
Act now, please respond by Friday, September 7, 2018.
We can't wait to welcome you and your talents to the table!
Thank you,
Jill Quezada, Chair, UCLA Administrative Management Group
AMG Committees 2018-2019
Advance your career by volunteering for a committee!
Email amgbruin@g.ucla.edu
Put the committees you want volunteer for in the subject line.
Questions?  Add them to the email and the Committee Chair (Co) will answer.
Thanks for your interest in AMG!
Marketing and Brand Awareness Committee
Interested in marketing, communications and outreach? Do you want to expand your portfolio while working with a cross-campus team?
The Marketing and Brand Awareness Committee develops and promotes the AMG brand. This committee brainstorms, develops and executes strategies to increase membership and participation at AMG events. We need volunteers to help with the development of our marketing plan and to help develop ideas for speakers and events that will aid UCLA managers and aspiring managers in their professional development. This committee is responsible for reviewing all AMG materials, communications and web content.
Chair and Co-Chair: Sue Barnes and Parama Sigurdsen
Meetings: Once monthly
Workload: The workload/time commitment varies depending on how much time and effort each member is willing to devote.
AMG Authors Series
The AMG Authors Series presents books for workshops and discussion. The discussions are facilitated by an author, senior administrator, manager, or faculty member.  The Committee and the facilitator choose the books. The books generally are chosen because they promote management skills and philosophies valuable to UCLA professionals.
Chairand Co-Chair: Jill Quezada and Maureen Forman
Meetings: The Committee meets once a year. We communicate by e-mail and telephone to follow-up on proposed events throughout the year.
Workload: Everyone on the committee has taken the lead to secure at least one facilitator for the event.
Excellence Awards Committee
This committee plans and administers the Excellence Awards, consisting of:
1) EXCEL Leadership Award;
2) Distinguished Career Award;
3) Rising Star Award.
This committee is open to all members of AMG.  Specific tasks include review of the award criteria, development of nomination materials, communication efforts regarding the award, and hosting of the annual Excellence Awards Celebration. The winners of the awards will be recommended to CHR by a panel of AMG board members.
Chair and Co-Chairs:  Mark Lucas and Vichelle Jose  
Meetings:  The Excellence Awards Committee will meet on an approximate bi-monthly basis from October to June.  Committee members should also plan to attend the Excellence Award event which will be scheduled in May 2019.
Workload: 
Some of the opportunities to get involved include:
Writing/editing communication
Project planning
Event planning
Contributing to an award/ event that has a campus wide impact and is important to senior leadership
Workload will be around 1-2 hours per month in 2019 (in addition to the bi-monthly meeting).  Additionally, board members that are on the selection panel will likely spend ~5 hours reading and scoring applications.
Strategic Communications Committee
The Strategic Communications Committee assists with generating and managing content in support of AMG's mission and objectives for all AMG communication platforms (including The Spotlight, UCLA ProShare; and AMG's Newsletter).
Chair and Co-Chair:  Ravi Rai and Carlos Samplina
Meetings: Once a month
Workload: The workload/time commitment varies depending on how much time and effort each member wants to devote.
Our main focus will be to develop a continuing newsletter and The Spotlight.  Other activities include increasing participation in UCLA ProShare, and managing the AMG listserv.  Those who are more ambitious can help coordinate and/or write articles reporting on our events, generate activity in UCLA ProShare, or organize our article archives. Anyone with expertise is especially welcome!
Events Committee
The Events Committee assists with the planning and hosting of events which support the mission and objectives of AMG.
Co-Chair and Co-Chair: Latricia Rogers and Abeba Jousef
Meetings: Monthly
Workload: Type of involvement activities include:
Help with tasks before the event (printing labels, preparing flyers, etc.)
Help with tasks during the event (check-in, setup, handout flyers, etc.)
The Events committee supports events sponsored by AMG board members and may occasionally propose our own events. We are looking for event ambassadors who are energetic, detail oriented, organized and creative. You will gain access to a network of UCLA professionals around campus and be informed of the inner workings of the University.
Website Assistance
If you have website editing skills and are able to assist us with maintaining our website, please let us know at amgbruin@ucla.edu.